Reserve, a stablecoin project, has announced the impending launch of its Crypto-fiat payments app. According to the press release made on the 12th of...
The Global Blockchain Summit Series will hold the third annual Blockchain Summit Frankfurt at Kap Europa Convention Center, Frankfurt between March 25 and 26,...
The Aligatocoin Blockchain is an e-commerce platform that aims to bridge the operation of sellers and purchases of products on online-shops.  The network is...
The growth in the European Union has shifted the delivery of products from B2B to B2C as well as to C2X and it is...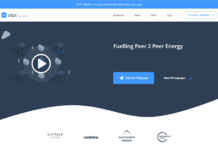 Verv brings P2P Energy Trading To The Blockchain You will see that at Verv they believe that it is time to dare to be different,...
OPP Open WIFI is developing a blockchain solution that will bring together over 25 million individuals who will provide data for other people to...
Peculium ICO is the first ever cryptocurrency savings platform that merges cryptocurrency markets with the traditional savings economy. Peculium manages this via artificial intelligence,...
As the name suggests, Cryptassist is a blockchain solution that allows users to have access to four basic services. These are; crypto exchange, e-commerce,...
Further Network is a project that promises to disrupt the travel and tourism industry by using blockchain and a Cryptocurrency called Aton. Consequently, the...
About Cyber Capital Invest Cyber Capital Invest is a project that is expected to boost Cryptocurrency trade by assisting people interested in investing in the...
Bitcoin is the first world's global digital currency. Currently, many middle-income earners all over the globe are considering bitcoin as one of their investment...
UNICEF (United Nations international Children's Emergency Fund) has announced that it will be investing in six Blockchain start-ups just months after it published a...