S.L. Benfica, a Portuguese football club, has begun accepting digital currency payments on its online platform. According to the Verdict report made on the...
Singapore Crypto Expo is scheduled to take place in Singapore on October 26th 2018. The event will bring together more than 8,000 cryptocurrency experts...
Initial coin offerings are on the rise and while many of the companies are of good will, the number of ICO frauds is on...
The growth in the European Union has shifted the delivery of products from B2B to B2C as well as to C2X and it is...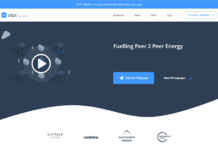 Verv brings P2P Energy Trading To The Blockchain You will see that at Verv they believe that it is time to dare to be different,...
The Aligatocoin Blockchain is an e-commerce platform that aims to bridge the operation of sellers and purchases of products on online-shops.  The network is...
Peculium ICO is the first ever cryptocurrency savings platform that merges cryptocurrency markets with the traditional savings economy. Peculium manages this via artificial intelligence,...
As the name suggests, Cryptassist is a blockchain solution that allows users to have access to four basic services. These are; crypto exchange, e-commerce,...
Further Network is a project that promises to disrupt the travel and tourism industry by using blockchain and a Cryptocurrency called Aton. Consequently, the...
About Cyber Capital Invest Cyber Capital Invest is a project that is expected to boost Cryptocurrency trade by assisting people interested in investing in the...
Cryptocurrencies are important Digital Assets that are growing popular by the day. Currently, there are 1,600 of them across the globe but the most...
Today, newspaper and websites are becoming increasingly desperate for an explanation of the crypto phenomenon. Readers are interested in the knowledge of Blockchain technology...