The Global Blockchain Summit Series has organized the Blockchain Summit London, and it will be held in Olympia West, London on the 2nd and 3rd July 2019 and it will be open from 9 am to 5.30 pm on both days.
The summit will bring together 5000 blockchain professionals that will include investors, business leaders, visionaries, and decision makers, as well as tech innovators. Attendees will be spoilt for choice on which talks and workshops to attend seeing that they have 200 visionary speakers who will grace the event.  These speakers will present their case studies on how to integrate blockchain technology in service delivery and corporate governance.
With 88 countries expected, the summit will focus on four main themes, enterprise, investor, developer, and government. There will also be interactive workshops, roundtable discussions, and hosted networking events slated in the program where participants will deliberate on how to grow and integrate blockchain technologies in their respective industries.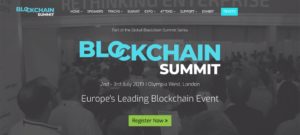 There will be 80 exhibitors ranging from startups to established companies that are bringing innovative solutions to various industries such as insurance, media and entertainment, energy, retail, finance and banking, utilities, logistics and many more.
There are two types of passes for the Blockchain Summit London; General Attendee, which is a standard pass, and the Summit pass, which is a priority access and insight pass. The summit pass is the best since you get to be included in the networking app, access to the post-event presentation, priority theatre seating and more. Register today and get a 2 for 1 ticket code.