Maestro is a blockchain technology problem that aims at improving the digital music industry by eliminating barriers that have previously hindered artists from getting utmost returns for their work. One of the attributes that set it apart from other similar blocks is that they existing ones are focused on enhancing streaming and music distribution structures, but fail to resolve the main challenges facing the industry.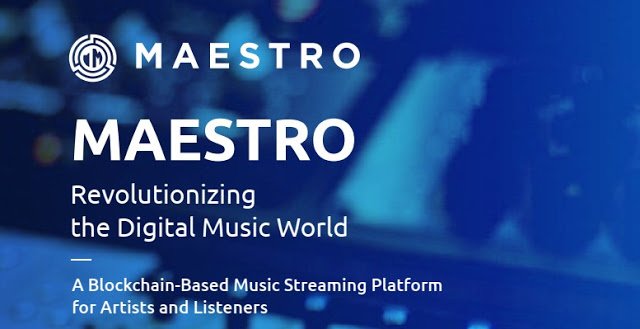 Main Problems that MESTRO Seeks to Solve
The current way the digital music industry is structure is unfair to not only the music producers but also the artists who spend hours creating music in studios. In most cases, the agencies and labels that act as third parties in the industry end up pocketing 80% of all the revenue generated thereby leaving artists with little or no income.
MAESTRO blockchain will resolve this problem by creating a transparent music distribution channel that will benefit all parties based on their efforts. Concisely, the developers are of the idea that for this industry to be profitable there is a need to create a favorable environment that is focused on promoting creativity and talents of the artists as well as guaranteeing fair compensation.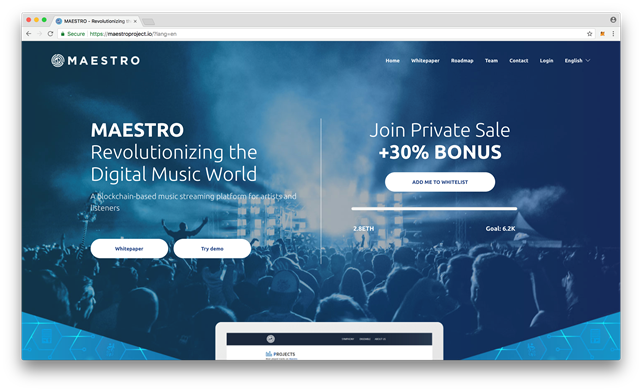 MAESTRO revolutionizes the industry by creating an advanced music platform that is powered by blockchain technology. This platform will work as an all-inclusive ecosystem that will create virtuous cycles of beneficial cooperation between the music developers/creators and the production companies.
MAESTRO Token Details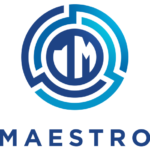 Token: MAE
Price: 1ETH = 10,000 MAE
Bonus: Available
Prototype: Available
Platform: Ethereum
Accepting Currency: Ethereum
Total Supply: 620,000,000
Hard Cap: 62,000ETH
Country: Singapore
Benefits of MAESTRO Blockchain Ecosystem
Provision of a decentralized streaming service that has a fair payment structure
Lower costs compared to existing music streaming platforms
Crowdfunding system that will provide more investment opportunities for regular music consumers who want to support investors in the industry as well as artists
Customers only pay for the songs that they want and listen to
Artists do not have to worry about increasing and volatile production costs as the ecosystem guarantees fair profit for them
Platform has a funding measure that artists can use to raise funds for producing music
All creative works rights are secured
Artists are given an opportunity to set the allocation ratio
Profit structure is transparent
The Team
MAESTRO Blockchain project is been run by a team of eleven experts who have degrees and other academic qualifications from renowned learning institutions such as Seoul National University. All of them are blockchain developers and analysts who have a deep understanding of this new technology and business sphere. They are committed and determined to ensure that the project succeeds in achieving all the set goals and objectives.
Verdict
Finally, we have a music-streaming platform that will ensure that all parties involved in the music production. MAESTRO will eliminate third parties thereby promoting fair distribution of revenue generated. The crowdfunding will also give upcoming artists an opportunity to venture into the industry fully and get profits, as they will be able to source for funds from investors and other people in the ecosystem.
To learn more about this innovative blockchain technology, visit the official website; and while there be sure to read this Google Drive document. You can also join in the conversation on Telegram and Twitter to interact with other people interested in Maestro Initial Coin Offering.
Username: Best ICO for you Bitcointalk