On previous reports we have covered here as well as featured on other websites such as CCN, we have emphasized the fact that the cryptocurrency industry is mainly controlled by emotions of the investors and speculations. Following the recent drop in the crypto market, experts who monitor this industry are of the idea that we may see bitcoin price drop below $6,000 in the next couple of days. In the last 24 hours, the price of bitcoin has dropped from $7,580 to $7,350, this is relatively a drop of 2.5%, and it is expected to drop further.
Significant Lack of Momentum Noticed
Since January this year, the price of bitcoin has shown a significant lack of momentum across exchanges in different parts of the world. The first drop that forced most investors to hurried sell their coins happened in February 7 when the price shifted downward from $19,900 to $6,100 – 46%. The most recent and dramatic change was on May 25 when the price dropped from $10,000 to $7,200 – 28%.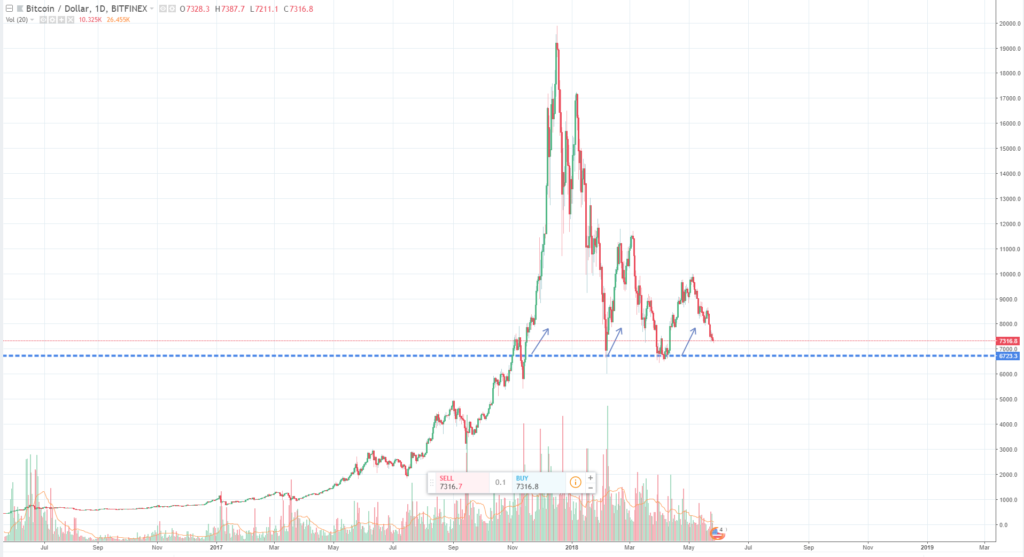 It would be wrong and unprofessional for use to focus only on Bitcoin, since a similar trend has also been noticed on three other major cryptocurrencies in the market. This is one of the main reasons why we have seen small sell offs as well as narrow correction periods after every successive increase in price of most altcoins.
Based on past experiences and research on trend, it is expected that BTC will soon rebound and gain ground above $6,800 mark and the digital market will enjoy a profitable accumulation period that will eventually give the currency the power and muscle it will require to increase in value gradually and gain stability. The prices of other digital currencies such as Ethereum will also benefit from a secure Bitcoin price momentum.
One expert, Willy Woo, who has not been afraid to express his sentiments about bitcoin, recently stated that BTC could fall to $5,000 if the trend remains the same. However, it is important to note that a drop below $6,000 is very unlikely is this premier currency remains at $6,800.
Tokens and Altcoins
Investing and trading in digital currencies and tokens in the current highly volatile period is equivalent to leverage trading. This is based on the fact that most tokens experience significant and high intensify shifts in prices both downside and upside during the bear cycle. They usually follow the bitcoin price trends but their price shifts are usually larger and more significant to even the small investors.
Finally, we have noticed that most traders and crypto investors are not willing to sell their digital assets despite the recorded drop in prices. As such, a drop of BTC price from $6,000 is very unlikely and more importantly, the total valuation of the digital currency or crypto market may not drop below $300 billion unless something unprecedented and powerful happens in the industry.