Blockchain is ushering in a new era of betting platforms with Bethereum
What sets Bethereum apart from the other betting platforms is its intuitive interface and ease of use. Creating an account is easy, and they make use of Ethereum technology in order to deliver the most common demands coming out of sports betting. Examples of this are: instant payouts, winnings that are unlimited, and transparency within fund management. Although, you will see that there is more to this betting platform than just betting on sports. Along with the limitless scalability, this platform is also able to handle other items like eSports, games created for casinos, and fantasy sports.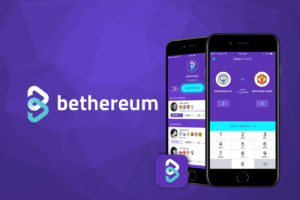 This platform also comes with a tool kit meant for creators and white-label clients, this also comes with a graphic Smart Contract builder that was designed to make the platform more user-friendly. At the very center of this platform is the Bether token, and this is going to be used for all interactions. The first of the token sales is going to give out 1 billion tokens as well as the money earned from the sale are going to be used in order to expand upon Bethereum along with paying for the costs of operation.
Cutting Out The Middleman
This platform is one that is based on Ethereum, and it is also a platform that is powered by Smart Contracts. This platform makes use of blockchain technology so as to make sure that everything is fair, transparent, and practical way of betting between certain individuals. You will see that there are no middlemen, everything that is important is going to be run by the Smart Contract. All rewards are going to be paid out automatically, and there is only a tiny portion of the winner's pot that will be charged so as to pay for the use of the platform.
Security With Smart Contracts
This platform is one that has a business model that has been created in order to simply and efficiently scale onto a world-wide level. Everyone will be able to start up their own platform easily by making use of the API. The Smart Contracts available are going to be used in order to secure the funds as well as adding some transparency to the betting process. The Trusted Oracles are going to be validating the match results as well as ensuring that everything is fair.
Final Thoughts
The Bethereum platform is one that everyone should be using. This platform makes betting easy, and it helps everyone feel a little more secure. With the use of Smart Contracts, safe and fun betting is just one simple step away. These reasons, and more, are why everyone should be trying out this platform.