About Cyber Capital Invest
Cyber Capital Invest is a project that is expected to boost Cryptocurrency trade by assisting people interested in investing in the sector to meet with experienced traders and earn weekly interests. The project will allow skillful Crypto traders to earn from their knowledge even when they don't have capital.
How Cyber Capital Invest Works
Upon opening Cyber Capital Invest accounts, the users will choose their 'Investment Plan' such as a 7-day plan. The users then deposit a given amount that is then locked for a given period based on the plan. The money is then moved to a central investment pot that is accessible to professional traders who use it to make trades. The capital is unlocked after the expiry of that period. The users are then allowed to withdraw original capital and profits.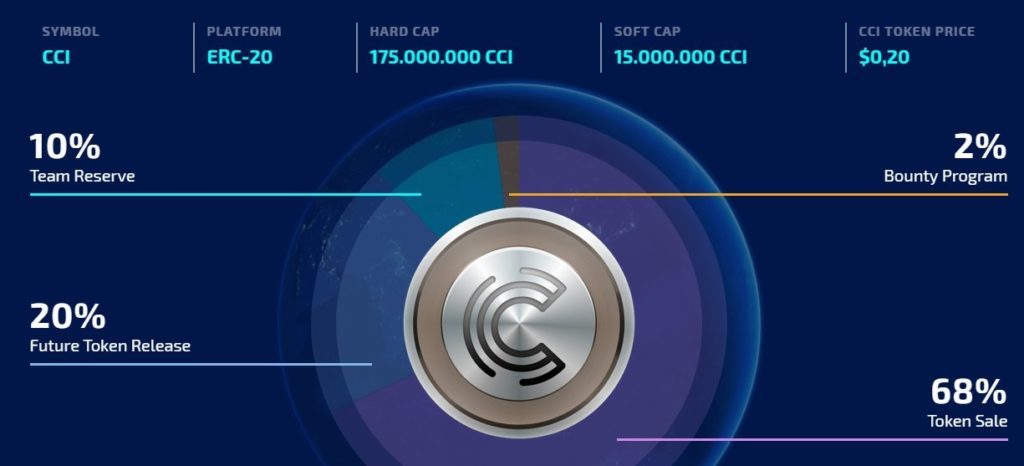 Token
Token symbol: CCI
Price per token: 1CCI = $0.2
Platform: ERC-20
Total token supply: 250M CCI
Tokens available for sale: 175M CCI
Soft Cap: 15M CCI
Hard Cap 175M CCI
Website | Whitepaper | Telegram | Facebook | Twitter  | Bitcointalk Profile
Important Features of Cyber Capital Invest
• Reserve Trading Capital
One key feature of Cyber Capital Invest is the reserve trading capital. This capital will be the system's financial guarantor. It will also be used in underwriting the client's insurance policies. Lastly, it will be used to deliver a profit share to CCI token holders.
• Insurance
Insurance will be there to ensure that the users of the new platform do not lose their investments and profits. The company's Reserve Capital scheme will be used to secure this underwriting.
• High Flexibility
Another important feature that will make the platform attractive to users is the high flexibility. This will enable the users to develop their own investment plans. The interest rate for any investment will be determined by the deposit and investment period.
• Anonymity
Cyber Capital Invest will also allow investors to participate anonymously as they are not required to provide their personal details when creating accounts. This platform will ensure the user data is both anonymous and secure.
• Easy Access
The users of the new platform will also benefit from various flexible investment plans. This will give them an easy and quick means of accessing their funds. The minimum plan under this system has a 24-hour capital-withholding period.
• Multi-currency
The users of the new platform will make deposits in various fiat and Cryptocurrencies. Withdrawals will be processed in various popular virtual currencies.
Cyber Capital Invest On Social Media
To get more details on Cyber Capital Invest, you can join them on Facebook. You can post your question about the project on their wall or send them a message. They have a Twitter handle where they communicate important updates about the project with their followers and the public. You can also interact with the company on Telegram.
Conclusion
Cryptocurrencies have only been around for about a decade. Whereas some people have been following the sector since its early years, others have just heard about it and hence have little knowledge. Consequently, there are people with Crypto trading knowledge but lack capital and there those with capital but lack the knowledge.
Cyber Capital Invest is a project that is expected to boost Crypto trading. More traders will now be able to participate in this trade and earn from their investments. By entrusting their investment decisions to their traders, they have more chances of earning profits than if they were to go it on their own.