CryptoBnB is the first rental homes platform powered by artificial intelligence, blockchain technology, and big data using utility tokens and advanced e-wallets. The blockchain technology used by CryptoBnB aims to enhance the return on investment (ROI) for all the parties in the real estate property market.  CryptoBnB is also focusing on improving the short-term rental experiences of the existing platforms, and its technology comes with multilayered security that is far more superior to what is already in the market.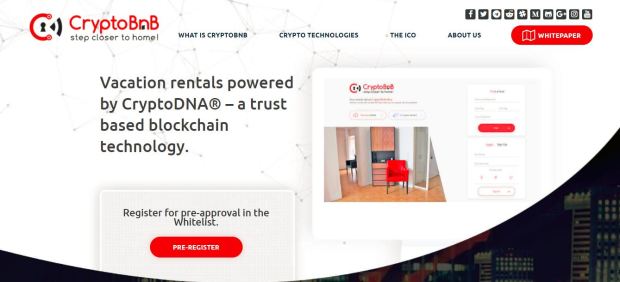 In the future, CryptoBnB aims to provide affordable and straightforward services by building the next generation of short-term rental, online, and tenant smart matching marketplace. They seek to provide travelers with more efficiency on searches, overall lower fees, and better flexibility by providing a P2P market without the burden of added costs, at the same time improving the ROI for the hosts putting up travelers. They have an ICO where they are looking to collect increase their market reach.
CryptoBnB Token Features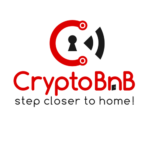 Token name: CKEY tokens
Token type: ERC 20
Payout: Allocated CKEY tokens will be sent to your ETH wallet in one-week maximum
Total supply: 1,000,000,000 CKEY tokens
Price: 1 CKEY = US $ 0.08
Minimum purchase: $75 (0.1 ETH)
Maximum purchase: No limit
Sale period: February 25, 2018, to May 25, 2018
Soft cap: $1.5 million
Hard cap: $15.2 million
Accepted cryptocurrencies: ETH
CryptoBnB Tokens and Funds Allocation
Of the 1 billion tokens available, the token allocations are as follows
Reserve: 22.5%
Token ICO: 30.0%
Team: 7.5%
Founders: 20.0%
Advisors: 2.5%
Bonuses host: 10.0%
Bonuses SP: 5.0%
Bounty program: 2.5%
Of the tokens that remain after the end of the ICO on March 25, 2018, will be destroyed. With the funds raised from the ICO, CryptoBnB will allocate it in the following manner
Marketing and sales: 20%
Blockchain team: 15%
Multi-platform support: 15%
Administration and operations: 10%
Legal affairs: 5%
Expense reserve: 25%
Development fund: 5%
Security and bug bounty: 5%
The ICO is available in tiers and each tier comes with discounts ranging from 50% to 10%. The tiers are dependent on the time you get in.
| | | | |
| --- | --- | --- | --- |
| ICO Tear | Discount | Token Price | Tokens/Tier |
| Tier 1 | 50% | $0.04 | 100,000,000 |
| Tier 2 | 40% | $0.048 | 80,000,000 |
| Tier 3 | 30% | $0.056 | 60,000,000 |
| Tier 4 | 20% | $0.064 | 40,000,000 |
| Tier 5 | 10% | $0.072 | 20,000,000 |
To earn the CKEY tokens, you must be a host, and potential travelers looking for a room or apartment to rent will pay you n CKEY tokens, or cash, whichever you prefer. You can also spend your tokens when you find a host already on the CryptoBnB platform.
The Team
The entire CryptoBnB team has 13 members: 5 advisors, 2 software engineers, a blockchain developer, a platform developer, legal advisor, a technical writer, a marketing manager, and Tariq Alwahedi, who is the founder and CEO.
Conclusion
The ICO aims to bring in market players as participants from the onset. With their vison of improving short-term rental experiences for guest, hosts, and the service providers involved. Read their whitepaper for more details or visit the official CryptoBnB website for updates on the ICO. You can also follow the conversation on twitter by clicking here.