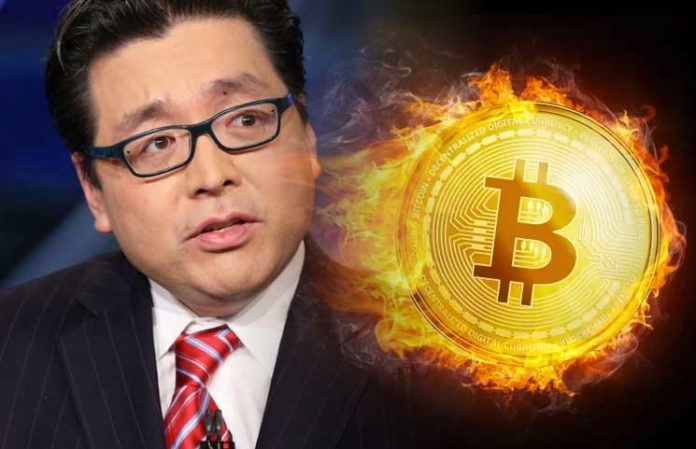 Bitcoin bulls have just returned in full. The BTC bulls have come with the biggest cryptocurrency bulls of all time. That is according to the managing partner and head of research at Fundstrat Global Advisors, Tom Lee. He had made a number of calls for the BTC price targets. However, when the bear market ramped up high, the researcher started biting his tongue and reeling his lofty predictions.
As at now, the bullish sentiments are heard everywhere in the cryptocurrency market. This happened just as this leading virtual coin is close to hitting the high price of $10,000.
Tom Lee's Predictions About BTC Market Price
Tom Lee is once again making certain predictions about the future of this leading virtual coin by market cap. He can just be compared to a groundhog that is poking its head out of a hole to see if winter is coming to an end. He is making his predictions at a time when the crypto winter appears to be coming to an end.
It is also important to note that Tom Lee, the Managing Director of Fundstrat, is also an outspoken crypto bull. He has made certain predictions concerning the prices he expects in the coming future before.
While having an interview with the Bloomberg, the crypto researcher highlighted how close BTC was to the high price level of $10,000. This, according to him, would also serve as a very enormous FOMO trigger. The price has done so well in the past couple of days and more is expected. Tom Lee also says that bitcoin could trade at a price that is between $20,000 and $40,000 in the near future. The upside is substantial, according to him.
Similar Reaction To What Happened In 2017
Once the price has broken above $10,000 for another time, Lee has other expectations. He anticipates a similar reaction to what happened during the largely publicized meteoric rise in 2017.
Around the 2017 Thanksgiving, the price of Bitcoin was able to go past $10,000 as families held their dinners across the nation. What came, as the net result was a widespread retail FOMO, making the crypto coin to hit its all-time high of $20,000. That happened barely a month after hitting $10,000. Later on, a bubble popped just before a bear market and correction ensued. As they say, the rest was history.
Why Upside Substantial
Tom Lee has referred to Bitcoin's upside rise as substantial. He says that the scarcity of the counterparts of this digital coin is among the main factors that could fuel up the crypto's price.
On top of the relative scarcity of the coin because of its hard-capped supply, BTC was also designed to be deflationary. It was also designed to feature an event that is referred to as halving, which could lead to further constrain of supply.