Singapore Crypto Expo is scheduled to take place in Singapore on October 26th 2018. The event will bring together more than 8,000 cryptocurrency experts and investors from all across the globe. Concisely, this event will bring together crypto markets, ICO, and blockchains to discuss the various trends in the industry. It will open the rather mysterious yet trending and vibrant world of cryptocurrency.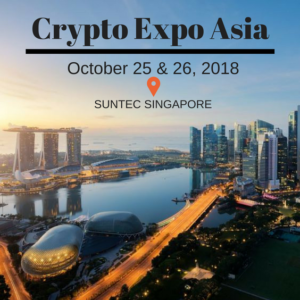 The event organizers have prepared well and put in place measures to ensure that everyone who attends the event will get maximum return for the time and money that they spend. Unlike other expo forums held in different parts of the world, Singapore Crypto Expo will provide more than just networking opportunities to gurus and crypto companies, but also explain in detail what crypto world really is and its impact on the global economy. The event venue will have many booths, bars, Speaker Hall, lounges, and Workshop rooms that you can frequent to interact with other crypto experts and learn more about the industry. In the large interactive exhibit hall, every visitor will get an opportunity to see and understand how the latest crypto tools from renowned fintech companies work.
More importantly, the agenda of Singapore Crypto Expo is in line with the current cryptocurrency and blockchain technology developments and trends.
There will also be magic shows, fantastic prizes, entertainment, live performances, as well as lucky draws to spice up the event and make it as interactive and informative as possible.
To learn more about this event, visit the OFFICIAL WEBSITE today or Crypto Awards site. You can also follow the conversation about it on TELEGRAM and FACEBOOK.