The Port of Rotterdam and Samsung have released a joint press statement about a partnership in creating a logistics Blockchain platform. The pact also brings on board the ABN AMBRO bank that will be deemed to be part and parcel of the new international shipping pilot program initiative. This project is the first of a kind in the world and there is a lot of optimism that the benefits will far outweigh the costs that the three entities incur in the process. It is being launched in January 2019.
About The Prototype Model Platform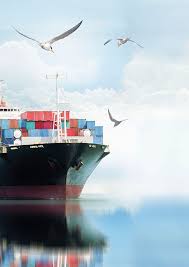 Samsung IT Group, Samsung SDS will be providing their Blockchain technology to the project that is dubbed as Nextledger. This is a technology infrastructure that enables different platforms to be used simultaneously by entities under a single platform. Simply putting it, it is a network that harmonizes the infrastructure of different platforms to enable them to mutually serve the same purpose.
Nextledger will be connected to AMBROs Blockchain platform that is known as Corda. The linkage will provide an interoperability of different platforms that are used in the logistical workflow in international trade. The main function of Nextledger-powered Blockchain solution is to ensure that there is complete compatibility of all the systems.
The main structure of the platform is already existing and has been created by a Dutch logistics company known as Blocklab. Hence, Samsung will power the new platform using Nextledger and Corda will add important features that are needed to make the new prototype competitive.
Blockchain Technology Can Improve Logistics
Nextledger technology has been employed before to develop products for shipping by research institutes, private entities and various governments that use the Port of Rotterdam. Hence, the New Samsung and Port of Rotterdam initiative will build on work that has already been done and put the theory to test.
Officials from both Samsung and the Port of Rotterdam believe that inefficiencies in international logistics originate from transactional mishaps due to incoordination of various platforms that are used in shipping. Hence, Nextledger will be a platform that simplifies financing, monitoring, and transportation of freight to make the Port services smooth as per the sentiments of Port of Rotterdam Authority's Chief Financial Officer, Paul Smits.
About The Different Parties Involvement In The Project
ABN AMRO is the 3rd largest bank in the Netherlands. It is also a leading Blockchain user institutions in the country that has the capacity and will to partner with other like-minded partners to launch quality programs.
The Port of Rotterdam is the largest and busiest Port in Europe. It serves the regions of Netherland, and Germany and handles over 13 million TEUs and over 600,000 metric tons of products as per research findings from 2017 data. Like any other busy port, the management faces challenges with managing smooth workflow for economic prosperity.
Lastly, Samsung is a global technology leader that has its footprints all over the world not only through its electronic products but also services. Samsung aims to offer a consensus platform to ensure that this project is successful by improving financial transactions including real-time sharing of documents for entry and receipts and confirmation of receipt and payments in trade.